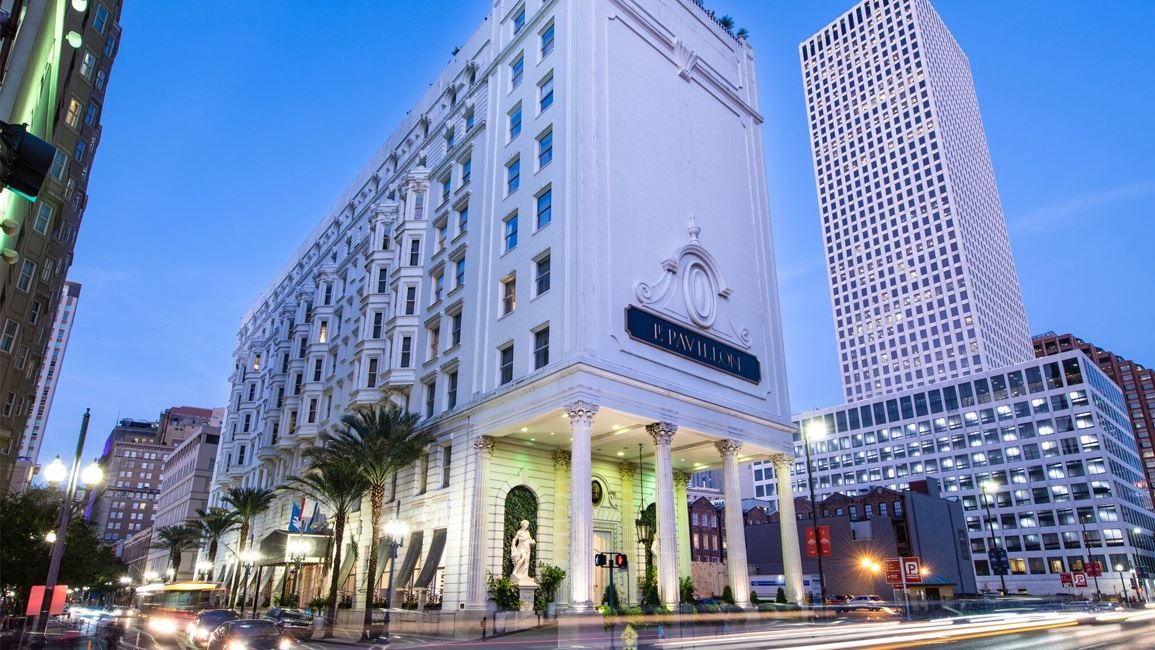 Le Pavillon Hotel
Sarah Wilson, assistant general manager at Le Pavillon Hotel on Poydras Street in New Orleans, isn't a native to the city but she knows the COVID-19 has wrought unprecedented change on The Big Easy.
"The city was just starting to settle after another epic Mardi Gras season and all of a sudden, the coronavirus has literally turned New Orleans into a ghost town," Wilson said in a statement to Nola Reporter provided by Remington Hotels, with manages the property. "Bourbon Street is empty, casinos are closed, live music is gone."
More than change in New Orleans' famous night life, COVID-19 has touched everyone in the city.

Sarah Wilson, assistant general manager at Le Pavillon Hotel.
"There are some locals still recovering from Hurricane Katrina and this is another devastating blow to them," Wilson said. "Most of our associates live paycheck to paycheck and it's been extremely hard to have to break the news that they cannot come back to work and do what they love best-serving our guests."
Most of Le Pavillon Hotel's associates now are furloughed or working severely reduced house. Those furloughed were among thousands of Remington Hotels associates thrown out of a job nationwide as the ongoing pandemic reduced the number of guests to single-digit percentage points.
Still, Wilson is trying to remain upbeat amid the disaster.
"New Orleans is a city that knows how to persevere and we will work through this with the courage, willpower and force that we are known for," she said. "We look forward to welcoming back people from all over the world and 'Laissez le Bon Temps Rouler!'"
"Remington Hotels is struggling in the face of the coronavirus," Remington Hotels President and CEO Sloan Dean III said in a statement.
Dean's appointment as president and CEO of Remington Hotels was announced in December.
Remington, founded in 1968, is a hotel management company that also provides providing property management services. Its hospitality wing manages 86 hotels in 26 states across 17 brands.
The suffering of Remington Hotels' employees is a small portion of the larger story about how COVID-19 threatens the world's economy. Treasury Secretary Steven Mnuchin warned earlier this week that COVID-19 could drive unemployment in the U.S. to 20%, levels not seen since the Great Depression.
The travel and hospitality industry is asking for about $150 billion in relief.
Like the rest of the industry, Remington Hotels has been hit hard by COVID-19, which has sunk its business to "beyond depression levels" and Remington anticipates losses this year in the hundreds of millions, Dean said.
Remington Hotels expects hotels that it manages to run at 90 percent lower occupancy levels in April 2020, compared to the same month last year, Dean said.
"Most all of our 6,800 associates are furloughed," he said, adding that the entire situation is a "disaster."
Dean said assistance will need to come from the nation's top leadership.
Priorities for the entire industry were presented to President Donald Trump on Tuesday, March 17 by the American Hotel and Lodging Association.
Those priorities are emergency assistance for employees, a workforce stabilization fund from the U.S. Treasury Department, preservation of business liquidity that would include $100 billion for employee retention and rehiring, and tax relief.
"For many Americans in our sector, this health crisis will be compounded by economic hardship in the coming weeks and months," Dean said. "Congress must act now!! Time is essential as unemployment claims in hospitality will be in the millions."